Description
Get the refreshing flavor of lime along with a clean and cerebral high from Brass Knuckles Abracadabra Cartridge. Sporting a slightly green hue, this cartridge delivers in flavor and potency.
Brass Knuckles' Blue Dream Cartridge is a sativa-dominant hybrid with sweet, explosive berry flavors releasing into the air. Experience full-body relaxation with a gentle cerebral jolt easing users into a calming euphoria.
Swing yer partner and enjoy the incredible flavors and potent effects of Brass Knuckles' Do-Si-Dos Cartridge. Brass Knuckles extraction artists begin with premium Do-Si-Does flowers, capturing the strains essence both in taste and experience. A few puffs of this cartridge delivers a complex yet complementary terpene profile, expressing sweet notes with lime, mint, pine, and spice. This cartridge will leave you with a soaring mood and in deep euphoria as the soothing body-high delivers penetrating relaxation.
Brass Knuckles' Forbidden Fruit Cartridge showcases a deliciously smooth flavor profile that resembles pine needles and freshly picked berries, accentuated with a tart, lemony finish. This pleasantly potent indica dominant hybrid concentrate will leave patients feeling uplifted and satisfied, providing the full effects of Forbidden Fruit in a convenient cartridge form.
Brass Knuckles' Gelato Cartridge offers patients sweet and fruity flavors coupled with tranquilizing body effects that effectively nullify pain. This rich indica dominant concentrate packs the full taste and potency of Gelato in a convenient cartridge form.
Indica heavy Grape God concentrate offers grapy flavored relaxation and ease. The effects are euphoric and cheerful.
Gush over the explosive flavors of Brass Knuckles Gushers by Connected Cannabis. Crafted for the true connoisseur, Brass Knuckles extracts Super Premium CO2 from Connected Cannabis flowers to capture the natural terpene flavors that will surely light up your sense. It smells and tastes like a sweet, fruit-goo filled candy but don't let her flavors define her. The Hybrid effects will keep you balanced with a fast-paced euphoria followed by a rush of relief alleviating pain and tension.
Brass Knuckles' Jack H Cartridge packs the spicy, pine-scented flavors into a premium cartridge delivering powerful sativa effects. This dynamic cross between Northern Lights and Shiva Skunks uplifts users into a blissful euphoria eliminating stress.
Go on an all-inclusive island vacation with Brass Knuckles Maui Cartridge. This Sativa strain is best known for its tropical mango flavors and citrus aftertaste. Each puff of Maui offers an accelerating high that begins with a cerebral flourish and washes into a mellow body buzz. Brass knuckles is the leader in super premium CO2 extracted cannabis oil. Known for flavor and potency, each cartridge contains a full gram of oil and works best with their 510 thread Brass Knuckle vape battery.
Brass Knuckles' Napalm OG Cartridge is a indica-dominant strain derived from Tahoe Alien and Alien Kush. This potent cartridge combines the classic Kush flavors with natural earthy spices delivering a serene, calming relaxation, alleviating pain.
Brass Knuckles' Tahoe OG Cartridge delivers a swift kick of euphoria to the head that settles comfortably into the body, providing long-lasting relief from pain. This calming indica concentrate packs the earthy lemon taste and full potency of Tahoe OG in a convenient cartridge form.
Buy Brass Knuckles Cartridges
Knuckle up! When it comes to premium CO2 oil products, Brass Knuckles aren't messing around. They are renowned for their potency and their oil cartridges, brass knuckles carts delivers top shelf product to their customers. Purity, integrity and no-nonsense, that's their motto.
Brass Knuckles vape pen stays true to the cannabis concentrate connoisseurs, using tried and tested extraction techniques. The oils are then lab-tested to ensure absolute purity, before being delivered to the customer in Brass Knuckles' own vape pens and cartridges.
Brass Knuckles Cartridges
Many different strains available, including Blue Dream, Skywalker and many more.
---
Brass Knuckles Hybrid
Brass Knuckles Gorilla Glue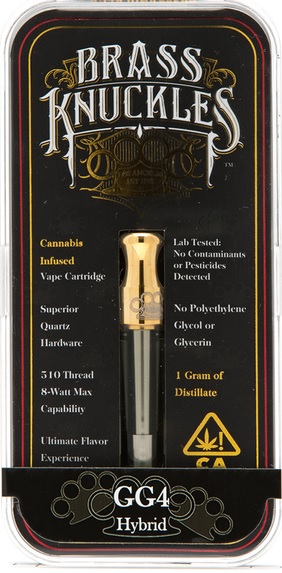 Developed by GG strains, very potent
Flavorful
Euphoric, relaxing feeling
Named for its couch lock effects
Helps to treat anxiety, stress, etc.
Resinous buds, making them also tasty
Girl Scout Cookie Lab Results
Brass Knuckles Gelato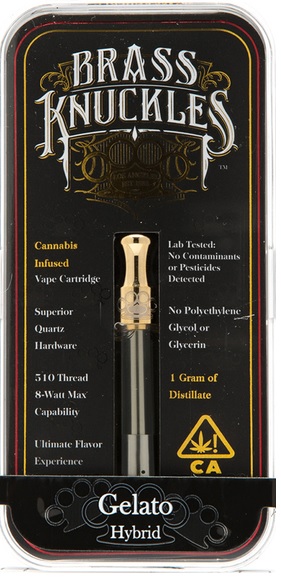 Creamy hybrid
Famous for cerebral and body highs
Well balanced indica/sativa cross
Known for its sweet tastes
Perfect for all-around use
Girl Scout Cookie Lab Results
Brass Knuckles Girl Scout Cookie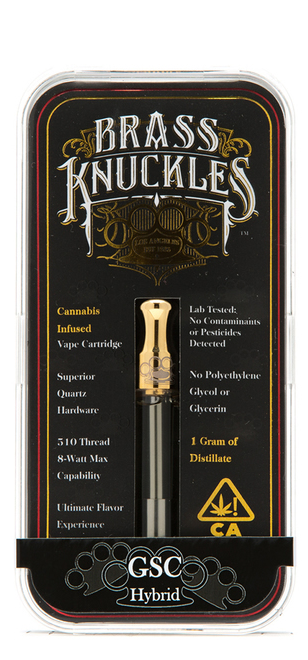 AKA GSC
OG Kush + Durban Poison
Californian strain (Girl Scout Cookie Cali)
Smoked across the world
Tiny amounts will get you stoned
One of the best-tasting strains
Sativa-dominant
Girl Scout Cookie Lab Results
Brass Knuckles Forbidden Fruit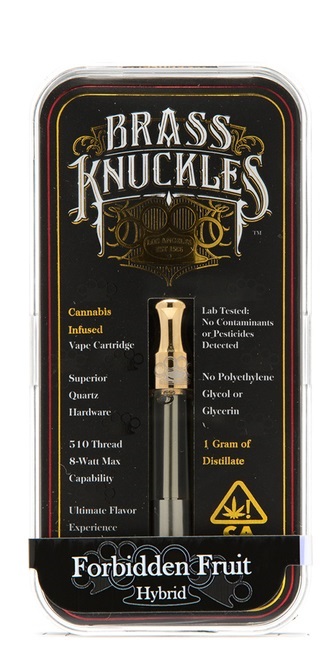 Fruity strain
Indica/sativa balanced
Perfect for relaxing
Girl Scout Cookie Lab Results
Brass Knuckles Sativa
---
Brass Knuckles Sour Diesel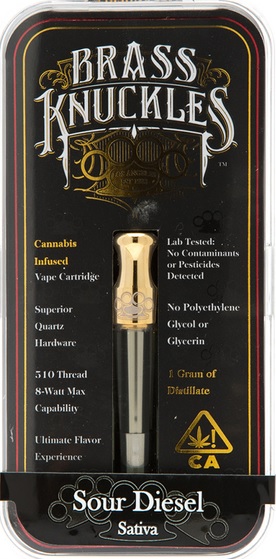 Legendary Sativa strain
Cerebral high
Pungent, diesel-like aroma
Energizing
Stress & Depression melt away
Very high THC
Girl Scout Cookie Lab Results
Brass Knuckles Blue Dream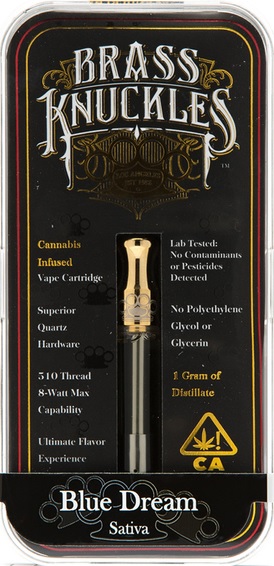 Amazing taste
Strong Sativa dominant
This is the concentrate form of the strain, so includes the terpenes but not the usual cannabinoid makeup of Blue Dream
More sativa-dominant that the strain itself, this is a potent strain
Girl Scout Cookie Lab Results
Brass Knuckles Jack Herer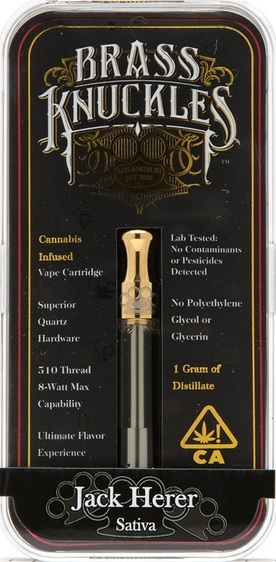 Hails from Amsterdam
Potent Sativa
Retains all of the flavor from the original strain
Perfect for depression, and other things helped by sativas
Daytime strain
Girl Scout Cookie Lab Results
Brass Knuckles Maui Wowie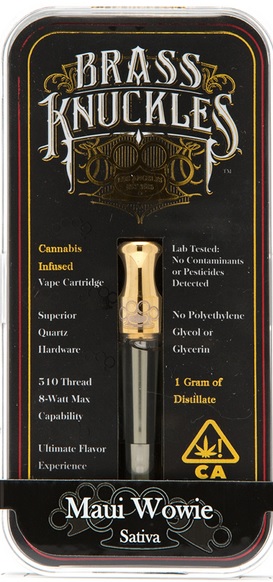 Classic Sativa
Tropical flavors
Stress-relieving
Relaxing
Dissolves stress and is euphoric
Girl Scout Cookie Lab Results
Brass Knuckles Sour Apple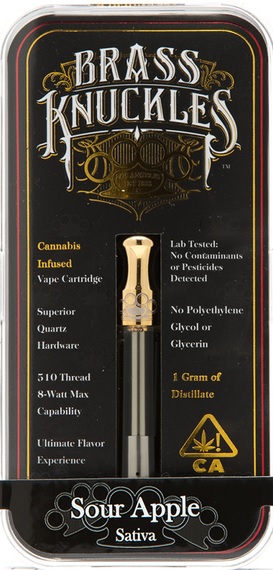 Strong, sour-tasting strain
Potent, unique taste
Euphoric
Great for fighting stress
Girl Scout Cookie Lab Results
Brass Knuckles Strawberry Cough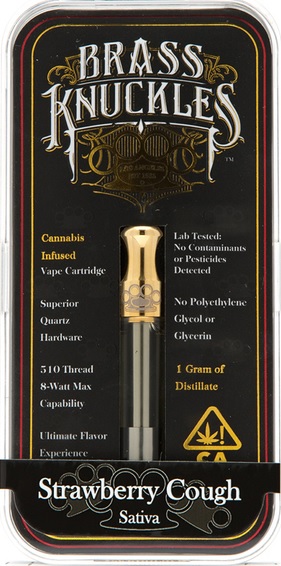 Heavy, potent Sativa
With strawberry overtones
Happy, euphoric
Pungent, potent
Anxiety, depression, and stress buster
Girl Scout Cookie Lab Results
Brass Knuckles Carts Tangie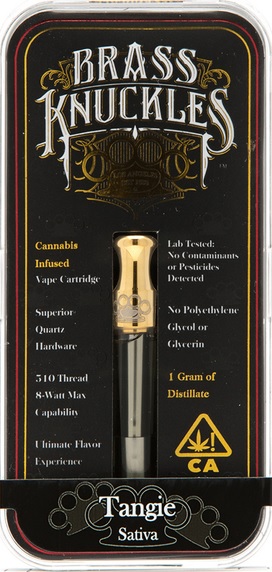 Bred in Amsterdam originally
Sought-after for its citrus smell and taste
Cross between Cali Orange and Skunk
Provides a relaxing, euphoric but potent high
Girl Scout Cookie Lab Results
Brass Knuckles Indica
---
Brass Knuckles Skywalker OG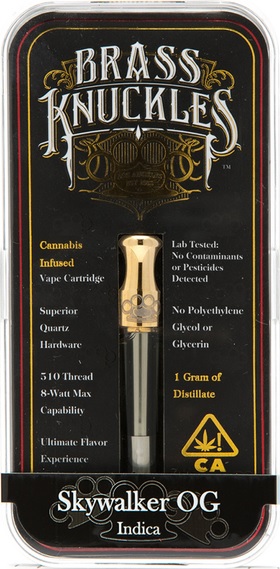 Indica-dominant hybrid
Blueberry Flavors
Great for nighttime use
Stress Buster
Girl Scout Cookie Lab Results
Brass Knuckles Blueberry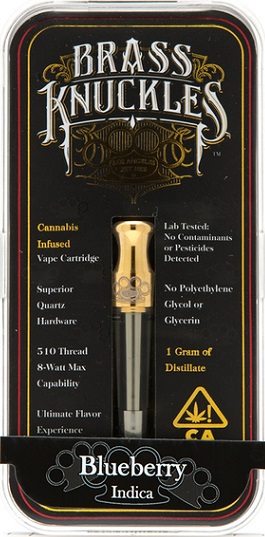 Legendary Indica strain
Long history, going back to 1970s
Fresh blueberry scent and taste
Long-lasting euphoric effects
Blue Hues
Great taste
Girl Scout Cookie Lab Results
Brass Knuckles Banana OG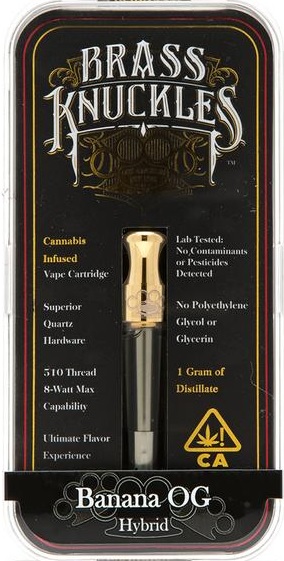 Relaxing Indica strain
Perfect banana like taste
Great for relaxing on sundays
Nighttime strain
Eats stress for breakfast
Brass Knuckles Do Si Dos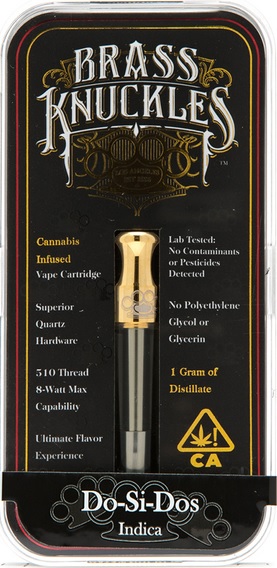 Relaxing, indica-dominant effects
Slight Sativa buzz
Great for lying on the couch
Can be used to take the edge off a long day
Girl Scout Cookie Lab Results
Brass Knuckles Grape God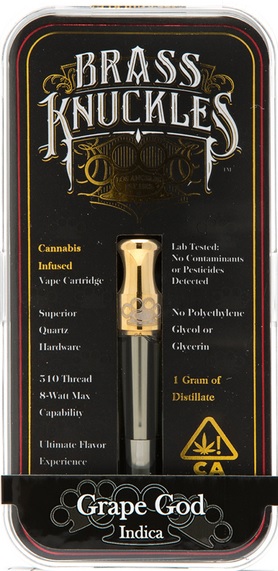 Created by Apothecary Genetics and Barney's Farm
Pure Indica
Solid, body high
Cross between Mendocino Purps, Skunk and the Afghani Landrace
Distinct Grape smell
Carefree, relaxing high
Soothes pain, stress and anxiety
Girl Scout Cookie Lab Results
Brass Knuckles Napalm OG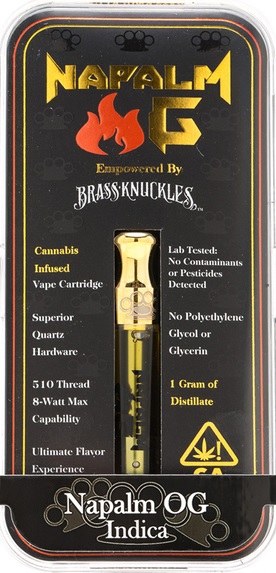 Tahoe Alien x Alien Kush
Potent Indica strain
Serene, calming high
alleviates pain.
Girl Scout Cookie Lab Results
Brass Knuckles SFV OG Kush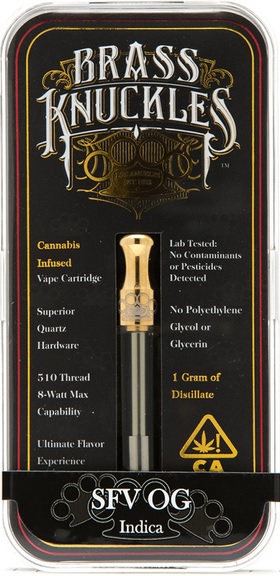 Bred from OG Kush and SFV OG
SFV OG Kush was bred by TheCaliConnection
Great taste
Full-body high
Perfect for relaxing and reducing stress
Girl Scout Cookie Lab Results
Brass Knuckles Tahoe OG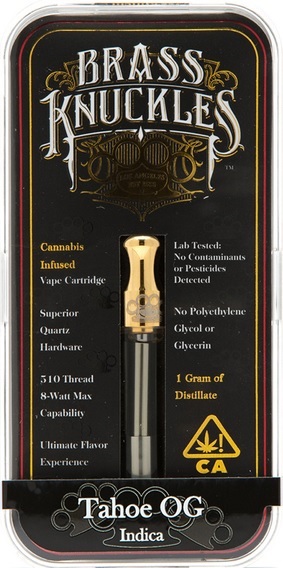 Tahoe OG is a perfect indica strain
Great for relaxing on a Sunday afternoon
Also perfect for nighttime use
Lazy, heavy body effects
Girl Scout Cookie Lab Results
How to pick your cartridge
Brass Knuckles have a massive amount of strains to choose from. They have a wide variety of hybrid, indicas and sativas. In order to pick your cartridge, please take a look at the box below:
| Hybrid | Sativa | Indica |
| --- | --- | --- |
| Balanced | Strong cerebral high | Normally a body high |
| Good for a lot of things, stress busting, relaxing etc Can be both cerebral and body high | Perfect for those who want to get creative, study, do some chores, or just help you through the day. Perfect for a burst of energy | The choice for those who want to relax, sleep, meditate, find some peace, and treat anxiety and other things |
| Can be either Sativa or Indica-dominant | May not be best for first time users | Best for relaxing |
| Gelato/Forbidden fruit for taste | Blue Dream/Sour Apple for taste | Skywalker OG or Blueberry for taste |
| Gorilla Glue/GSC for effects | Sour Diesel/Jack Herer for effects | Napalm OG or SFV OG Kush for effects |
The Vaping Experience
The vaping experience is thought to be vastly superior to that of smoking the cannabis flower, bonging, piping etc. Why do people vape, exactly? The main reason is that it doesn't have the negative health connotations which are associated to many other different methods of smoking cannabis. When you burn the plant material, it produces toxins, which are inhaled alongside the medicine. Pesticides can often be found in some products, so always make sure you can trust your maker.
Storage
Store at room temperature away from excessive heat and sunlight. Do not leave in your car on a hot sunny day.
Brass Knuckles Battery
The Brass Knuckles carts are compatible with all 510 thread batteries. The Duber stocks batteries, so if you'd like to buy one just check our menu!
Brass Knuckles how to use
To use these vapes, just attach them to a battery. Once attached, turn on the battery and the oil will slowly and gently be heated. Once the oil has chance to warm up a bit, take a short, 1-3 second drag whilst pressing the button. Afterwards, take a much longer drag, for 5-7 seconds while pressing the button.
Afterwards just exhale as normal, and you should feel the effects instantly.